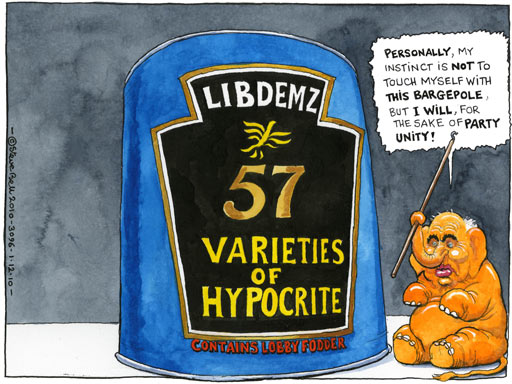 For those not familiar with UK politics:
- the Liberal Democrats have 57 MPs (members of parliament)
- they are propping up the Conservatives in a coalition government
- during the general election campaign earlier this year they promised to abolish students' tuition fees, if elected
- they won a number of university town seats on the back of this pledge
- the senior Liberal Democrat Vince Cable is the minister in charge of the government department which is currently introducing a huge rise in tuition fees, alongside a massive cut in the funding of university teaching
- a wave of student occupations and demonstrations is taking place all over the country against these cuts and charges
-
one leading Liberal Democrat said
the pledge was 'a legitimate position for an opposition party', but 'a very different position for a party with responsibility' (see dictionary definition of
hypocrisy
below)
- many Liberal Democrat MPs are getting cold feet over the parliamentary vote on this issue, due next week - should they vote for? against?? abstain??? individually???? all together?????
- the Guardian cartoonist
Steve Bell
does Cable as a baby elephant
- Heinz (of baked beanz fame) used to boast they sold 57 varieties of tinned food
- the lobby is where MPs go to cast their votes in the House of Commons
- 'lobby fodder' is an expression used to refer to MPs who always vote the way their party tells them to
- hypocrite:
when someone pretends to believe something that they do not really believe or that is the opposite of what they do or say at another time
(
Cambridge Dictionaries Online
)
They say a picture is worth a thousand words - well I've used over 250 here but I'd far rather look at Steve Bell's cartoon . . .
Oh, and by the way, I - and I'm sure many others in Lewes - will be very interested to see how our own Liberal Democrat MP,
Norman Baker
, votes on this issue.